A 3 Month Journey Into Your Body, Sexuality, and Soul Using Embodied Emotional Alchemy & Pleasure as Our Guides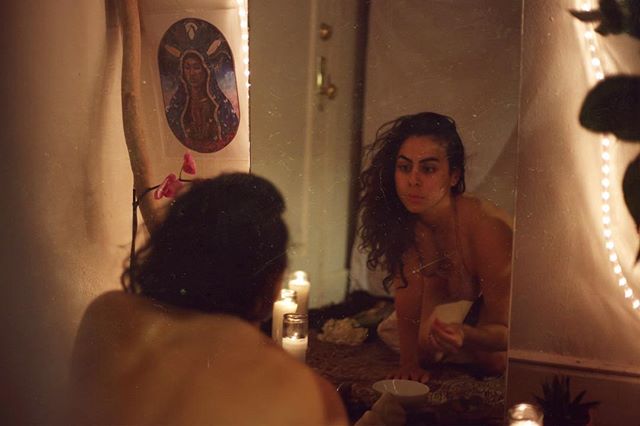 "When you change, the world around you changes"
3 Core Modules: Body, Sexuality, & Soul (1 month long each)
Each module includes:
3 Recorded Group Video Sessions per month (2 hrs each, 9 total)

Sessions include: guided practice, partner work, group coaching and presentation of a subject through teaching and discussion.

1 private one on one embodied coaching call per month (1-1.5 hrs, 3 total)

Audio recorded pleasure practice and embodiment journey (1 of each per month, 6 recorded practices total) with an explanation video, writing prompts, PDF's, and playlists with lifetime access
A private Facebook group to have access to community witnessing, share your process, and have facilitated guidance by me to be with anything that comes up along your journey
Accountability Partner During 3 month dive
I'll provide the structure to connect on a bi-weekly basis. This is to share insights, breakthroughs, and be witnessed. Your partner is not your coach and there is no coaching or advice-giving within the partner container.
Email and Audio Message support during journey
Module 1: Body (November 13th, 2oth, & 26th)
Earth as body, body as earth. Developing our felt sense: awareness of the shifting sensations within our body. Embodied understanding of how we hold emotions, stories, beliefs, memories, and patterns as shapes in our body. Emotions as teachers. Cultivating freedom of expression in our body and erotic tissue. Movement as ritual.
Module 2: Sexuality (December 11th, 18th, & 27th)
Intuitive embodied sexual re-education. Pleasure anatomy and decadent self-touch. Unraveling our relationship to our sexuality and rewriting outdated sexual beliefs. Decolonizing our relationship to our pussy and menstrual blood. Feeding our sexual landscape and vitality. Increase our capacity to experience pleasure. Listening to the true voice of our pussy and rewilding the expression of our sensuality.
Module 3: Soul (January 8th, 15th, & 22nd)
Living the spiral dance: life, death, and rebirth. Embracing active imagination. Living beyond limited narratives and weaving our soul in the world. Rewilding our creativity. Invoking joy, play and curiosity. Excavating our unique leadership.
What can I expect through this journey?
A deep connection to your body wisdom and intuition

A union between your body, sexuality, and soul

A new language to deepen your self-mastery

Openness and aliveness in your body and life

Cultivation of your sensuous nature, flow, and pleasure

An increased ability to move through a wider range of emotional states

A sustained experience of self-love
Do you sense there is more aliveness, more pleasure, more juice to experience in your day to day life?
Your journey through this will encompass the multi-dimensionality of your being…your complexity, paradoxes, and most buried pain is welcome. That's because we can't experience pleasure if we don't give ourselves permission to experience everything else with courage, including the numbness, the tension, the stagnancy. You see love, during our time together, you'll be uncovering parts of yourself you may have never experienced before. That's because the wisdom and capacity of your body is profound and infinite. Your journey doesn't end when the course is finished of course, it'll only continue deepening as you carve out time and energy to feed your practice. What you'll discover will be so rich, continuing to do so may come easier than you think. The secret being that a little bit of time everyday will make it easy to weave an embodied state of being into your daily life. You'll be empowered to create self-designed rituals and have new ways of viewing and working with your body, sexuality, and pleasure with the tools provided. The whisper of your soul will become clearer and louder. This work goes beyond the moments when you're doing the pleasure practices and will nourish all parts of your life.
Frequently Asked Questions
Who is this program for?
This program is for anyone who has a pussy or identifies as a woman. Some of the practices and rituals we'll be doing are created for pussies, wombs, and breasts, though they can be modified for bodies without these and can be connected to energetically. Please reach out to me to discuss this further if this program is right for you.
Will this be safe for me if I have unresolved sexual trauma?
This course can be supportive to your trauma healing. Everything I'm sharing I've had a profound personal experience with and has assisted my personal journey of healing from trauma symptoms. It's important to mention that I'm not a trauma specialist and recommend finding a therapist or guide who actively works with trauma who can support you if you are living with daily post-traumatic stress disorder. That being said, if you actively have one on one support and are wanting to deepen your transformation journey and pleasure, then join us! My one on one clients are actively on their healing path from trauma symptoms. This program may bring up difficulties and edges which is part of transformation work but you'll be held in a container of safety and love.
I have a busy life, how much of my time will this journey require?
Every week, we'll be gathering for 1.5-2 hours through Zoom, a high-quality video conference (free for you to download and use) that will be recorded and given to you so you can visit if you can't make it. These are highly recommended that you participate in as they are the bulk of the mentorship. Aside from our call, there is one practice assigned to you bi-weekly. Each of them are about 30-60 mins long and are meant to be returned to. There are also creative writing prompts which will take you about 30 mins per week. On average, you'll need about 2.5 hours per week devoted to this journey which you can break up into chunks to fit your lifestyle. You'll have lifetime access to all practices, PDFs and video calls to continue your after course is over and it's recommended to come back to them so that you can integrate and deepen. So if you're only able to do the call then that's great! If you can do more, such as the writing prompts and then meeting with your partner bi-weekly, then that's great too. This work is not a quick fix and I trust your ability to go at the pace that feels right for you.
This isn't the right time for me to do this course, will you be offering it again?
Short answer: Yes. I will be offering this course again next year though the price will be higher and the dates aren't set yet. This is a beta-launch, meaning this is my first time offering this mentorship so I'll revise how I guide it every time after it's offered.